Service at Manhattan's Grand Central Terminal was temporarily suspended Friday after mobs of pro-Palestinian protesters flooded the streets of New York City to protest Israel's war in Gaza, creating chaos when some attempted to storm the station closed.
The pro-Palestinian demonstration began at 5 p.m. on Friday with more than a thousand people marching through the streets. Some were seen tearing down posters of hostages held by Hamas terrorists and shredding them while other protesters burned an Israeli flag.
According to an Instagram post by pro-Palestinian organizations Within Our Lifetime and the City University of New York for Palestine, the protest was aimed at «flooding Manhattan for Gaza.»
«Gaza calls, we respond. Palestine will be free, because when we resist we will win together. Stop the genocide. Stop the siege. Stop the blockade. Stop the occupation. Stop funding Israel. Stop colonization. Stop Zionism. Stop imperialism», he claimed. social media post read, in part.
In posts on social media, the Palestinian Youth Movement and other groups called on people to leave their workplaces, schools and other activities to join the demonstration.
Video from Friday night's protest showed a protester climbing a street pole to tear down American and United Nations flags as hordes of protesters gathered and cheered at the base.
«You are on the road illegally. If you remain on the road and refuse to use the sidewalk, you will be arrested and charged with disorderly conduct,» an NYPD officer is heard saying over a megaphone at the rally.
The protester eventually steps down from the stand only to be arrested by New York City Police Department (NYPD) officers and taken out of the area kicking and screaming.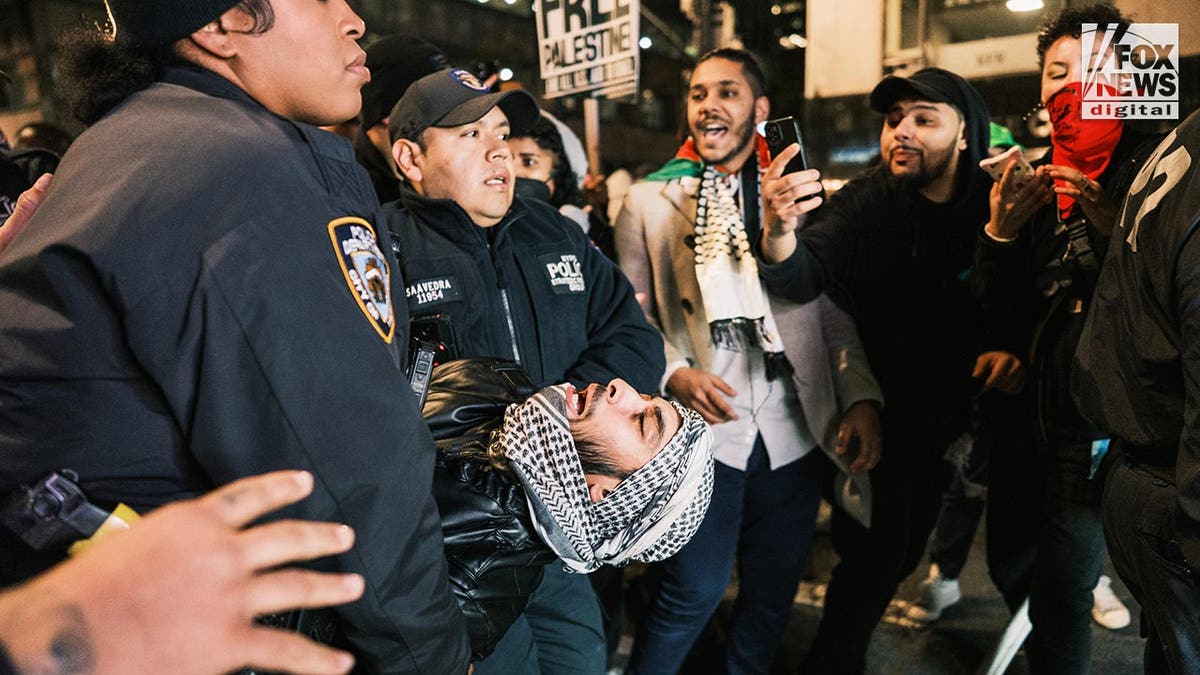 In another video, an Israel supporter and his wife are seen walking towards Grand Central Station surrounded by NYPD officers while some pro-Palestinian activists shout in the couple's direction as they follow them. The man can be seen arguing with the mob as officers try to keep the groups apart.
At one point, protesters can be heard chanting at the couple: «Shame on you, shame on you.»
By 9 p.m., protesters had gathered in front of Grand Central Terminal in Manhattan, prompting authorities to close access to the station for a couple of hours. It reopened at 11:50 p.m. Friday, according to a Notify NYC alert.
In a video on social media, a crowd of protesters could be seen trying to access the terminal by violently kicking the glass doors, which were closed, eventually causing damage to one of them. Law enforcement could be seen standing inside the terminal.
ALL LATEST NEWS AND UPDATES, NEWS HEADLINES, LATEST USA NEWS, LATEST US NEWS, US NEWS LIVE ON NEWS21USA
An unknown number of protesters were arrested during the hour-long demonstration.
The NYPD told News21USA News Digital that the total number of arrests had not yet been calculated.